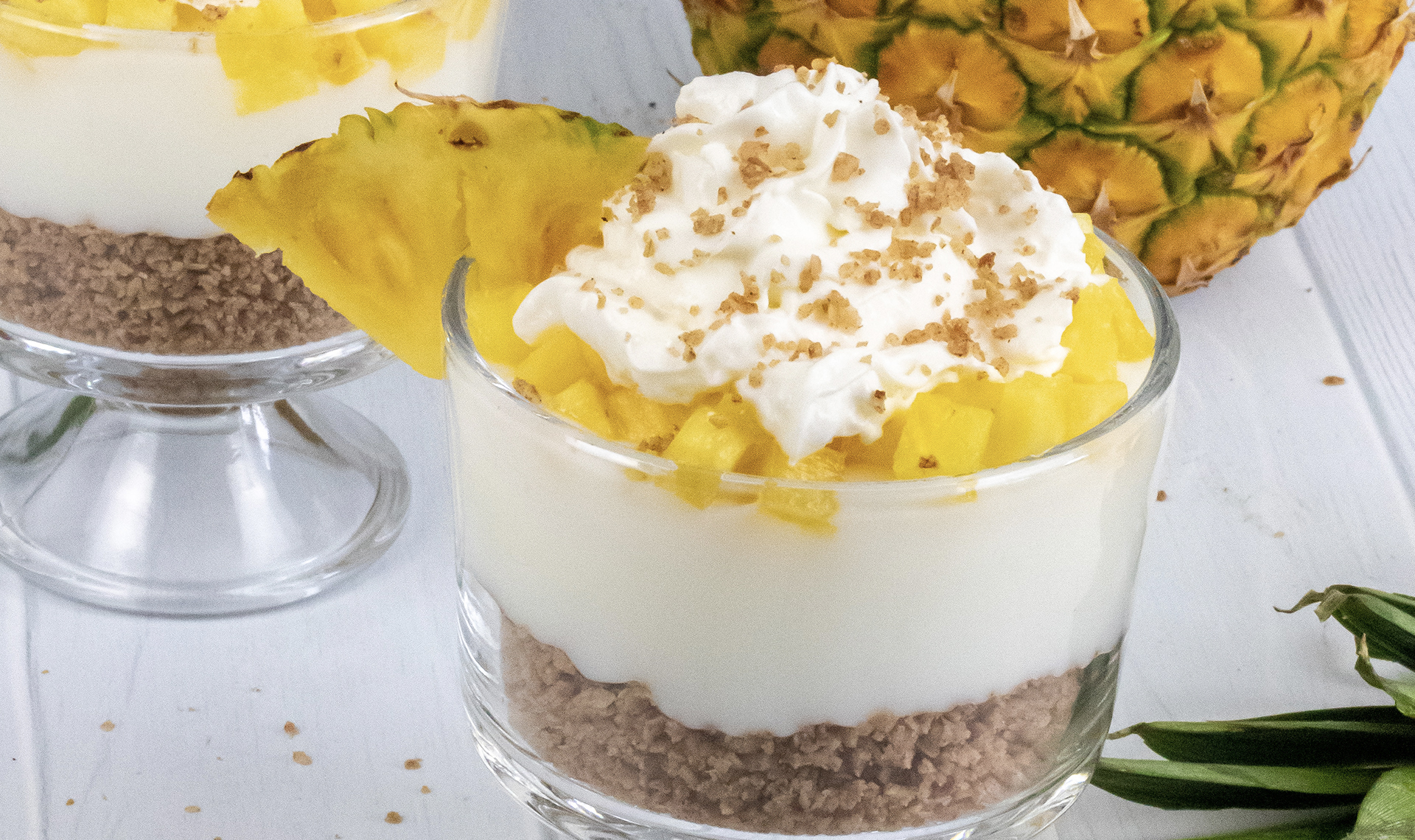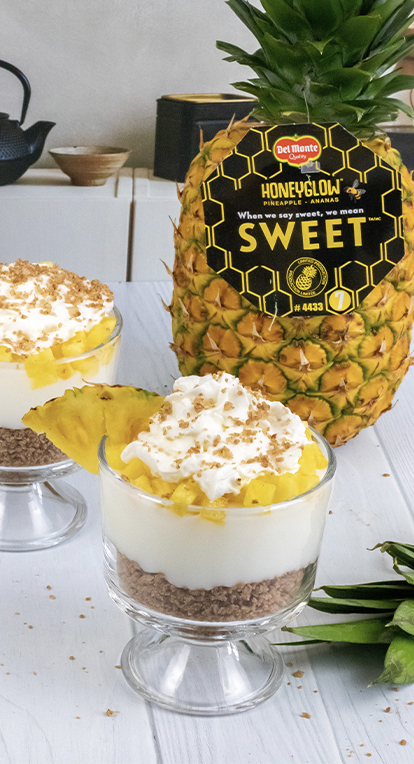 Honeyglow® Piña Colada Cheesecake Mousse
3 servings
Prep Time: 25 minutes
Cook Time: 1 hour
Crumble
3/4 cup rolled oats
1 cup sweetened shredded coconut
2 teaspoons sugar
1 tsp cinnamon powder
3 tablespoons melted butter
Pineapple Cheesecake Mousse
1 1/4 cups heavy cream
1/2 cup cream of coconut
8 oz cream cheese 1 block, room temperature
1 teaspoon vanilla extract divided
1/2 cup Fresh Del Monte Honeyglow® Pineapples finely diced
2 cups Fresh Del Monte Honeyglow® Pineapples, brunoise dice
1/4 Fresh Del Monte Honeyglow® Pineapples juice from blended pineapples
Fresh Del Monte Honeyglow® Pineapples for garnish
Crumble:
 In a food processor, break down the coconut and oats into an almost sand-like consistency.
Add to a hot pan with melted butter and stir until fully absorbed. Add cinnamon and Alcon tonic to stir until the mixture dries up a bit.
Transfer to a dish and allow it to cool.
Cheesecake Mousse:
In the bowl of an electric mixer, beat the heavy cream until it begins to thicken. Continue to beat until the mixture is thickened and holds a stiff peak.
Do not overbeat, or it will become overly thick and clumpy. Scoop whipped cream into a bowl and place in the fridge.
In the empty mixing bowl (don't wash), add cream cheese and beat until smooth. Continue mixing and add the cream of coconut, Fresh Del Monte Honeyglow® Pineapple juice, and vanilla.
Stop mixing and gently fold in HALF of the prepared whipped cream. Fold/stir until just combined.
Assemble the desserts by adding a layer of crumble to the bottom of each dessert dish. Add the cheesecake mousse, then top with diced Fresh Del Monte Honeyglow® Pineapples.
Refrigerate for 2 hours an hour before serving. When serving, add whipped cream and crumble.
Notes: Make sure the cream cheese is at room temperature before starting.