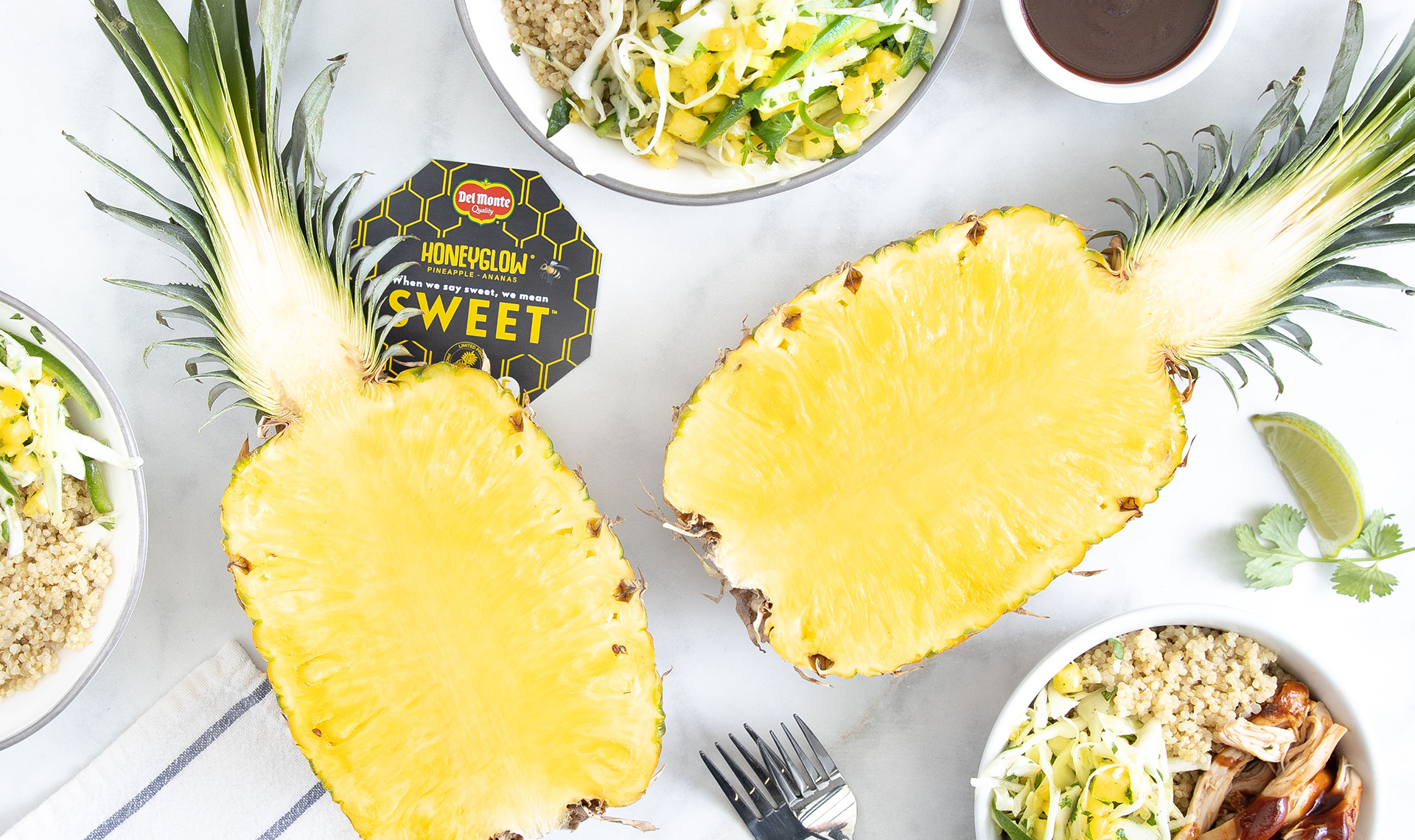 BBQ Chicken Bowls with Honeyglow® Pineapple Slaw
4 servings
Prep Time: 25 minutes
Cook Time: 25 minutes
4 boneless skinless chicken thighs
¼ cup prepared barbecue sauce, plus more for serving
1½ cups golden quinoa
½ teaspoon fine sea salt
4 cups green cabbage, shredded
1½ cups Del MonteⓇ Honeyglow® Pineapple, finely diced
½ cup cilantro, coarsely chopped
1-2 jalapeño peppers, seeded and cut into matchsticks
3 tablespoons fresh lime juice
2 tablespoons olive oil
½ teaspoon fine sea salt
¼ teaspoon black pepper
Preheat oven to 425℉. Line a large sheet pan with parchment paper or foil.
Place chicken thighs on sheet pan and brush liberally all over with barbecue sauce.
Bake chicken until the internal temperature reaches 175℉, about 25 minutes.
While chicken cooks, prepare the quinoa. In a medium saucepan, combine quinoa, salt, and 2¼ cups water. Bring to a boil over high heat, then reduce heat to low, cover, and simmer very gently for 12 minutes. Take off the heat and let sit, covered, for 5 minutes.
While the quinoa cooks, make the slaw. In a large bowl, toss to combine cabbage, Honeyglow® pineapple, cilantro, jalapeño, lime juice, olive oil, salt, and pepper.
Once chicken is cooked, transfer to a cutting board and shred with 2 forks. Drizzle with a little more barbecue sauce to taste.
To serve, divide quinoa among 4 bowls. Top with slaw and shredded chicken. Serve with extra barbecue sauce for drizzling.